HDPE Pipe Fittings
WHY CHOOSE US:


Introduction:
Detailed Information:
1. Raw material:PE100
2. Color: Black, blue or other colours as required
3. Size: available range from 20mm to 630mm
4: Connecting way: butt fusion and socket fusion
5. Pressure Rating: PN16 (SDR11),PN10 (SDR17.6)
Features:
1.Non-toxic
Manufactured by virgin materials which is non-toxic, tasteless and never scaling, it could
effectively improve the water quality.
2.Corrosion resistance
High resistance to various types of chemicals. No electrochemical corrosion.
3.No Leakage
HDPE pipe and fittings are welded in the ways of butt fusion, socket fusion and electrofusion. The strength of joint point is higher than the tube itself.
4. Higher flow capacity
The smooth inner wall is easy for pipeline transportation .Under the same condition delivery capacity can be increased by 30%.
5. Convenient for construction and installation
HDPE pipe could be installed in a variety of trenchless ways, so it is very convenient for construction and installation.
6.Lower maintenance costs
HDPE pipe fittings are not only convenient to transport and install, but also reduce the worker's
labor intensity and improve work efficiency.
7. Longevity
50 years' service lifespan under reasonable condition.
8.Recycled and environment-friendly.
No scaling, no breeding of bacteria, solving the secondary pollution of drinking water.
Our Factory: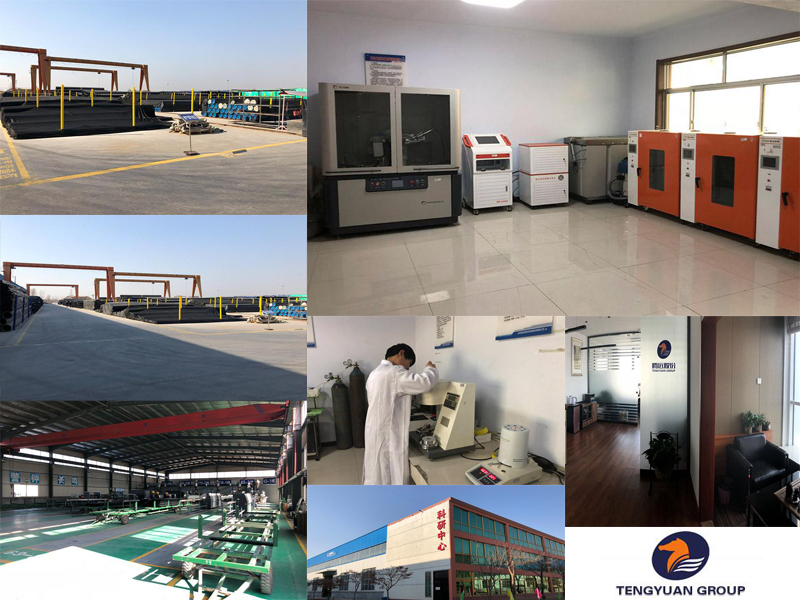 CERTIFICATE: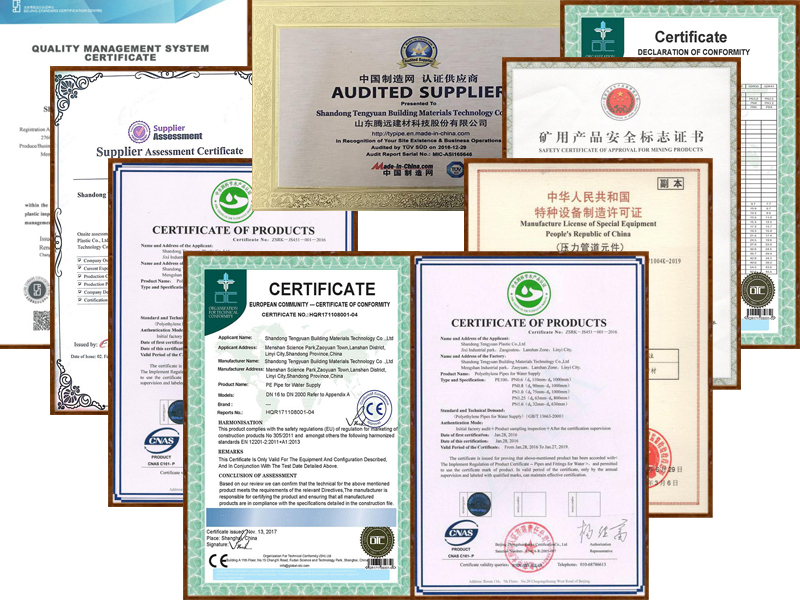 SERVICE:

1 CREDIT MANAGEMENT:
Credit is the primary core value of us, as well as the guarantee for our enterprise's sustainable development. We trust and respect each other with our customers, employees, suppliers and other stakeholders. On this basis, we are expecting a long-term and all-win cooperation model
2 QUALITY PRIORITY:
Deeply developing the value of supply chain and optimizing the supplier system, so as to ensure the superior quality and stability of the supplying end. Performing lean management model and realizing superior quality competitiveness by innovating R&D management, performing total quality management and carrying out standardized operation.
3 ALL-WIN COOPERATION:
We have been striving to achieve the maximum comprehensive efficiency and all-win cooperation whether in teamwork or in cooperation with customers.
4 SOCIAL RESPONSIBILITY:
We are committed to green manufacturing, energy conserving and emissions reducing, environmentally protecting, which reflect TENGYUAN's social responsibility.
For more quality products, Contact Now!