HDPE GSHP Pipe
WHY CHOOSE US:


Introduction:
Geothermal pipe transfers heat from the ground into a building to provide space heating and to pre-heat domestic hot water.
Geothermal exchange is a clean energy method of heating and cooling commercial and residential buildings.
The technology has been proven and applied for decades.
In simplest terms, HDPE pipe is buried in the ground, allowing energy transfer between the fluid in the pipe and the earth.
The fluid in the pipe is warmed in the winter and cooled in the summer. The system consists of buried HDPE pipe, a heat pump, and air distribution system.
Detailed Information:
Specification
DN(mm)

Thickness (mm)

SDR13.6

1.25 Mpa

SDR11

1.6 Mpa

25

1.9

2.3

32

2.4

3.0

40

3.0

3.7

50

3.7

4.6

63

4.7

5.8

75

5.6

6.8

90

6.7

8.2

110

8.1

10.0

125

9.2

11.4

140

10.3

12.7

160

11.8

14.6

180

13.3

16.4

200

14.7

18.2

225

16.6

20.5

250

18.4

22.7

280

20.6

25.4

315

23.2

28.6

355

26.1

32.2

400

29.4

36.3
Features:
1. Great flexibility.
2. No salts are deposited on the inner surface
3. Without electrolysis.
4. Small thermal expansion.
5. Resistance to adverse conditions (high temperature, high pressure).
6. Wide range of dimensions.
7. Easy connection to all connection systems of plastic pipe.
8. Guaranteed quality and insurance for their good function.
9. 100% oxygen barrier existence.
Application:
1. Cold and hot water distribution.
2. Solar system, air-conditioning and refrigeration system.
3. Under floor heating PEX systems.
4. Medical, foodstuff and chemical industries' PEX pipe systems.
5. Gas and air distribution.
Our Factory: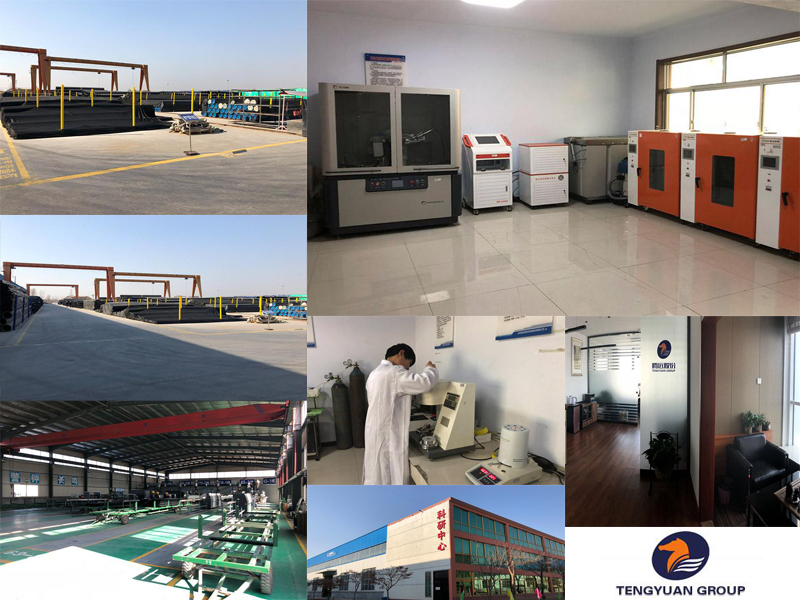 CERTIFICATE: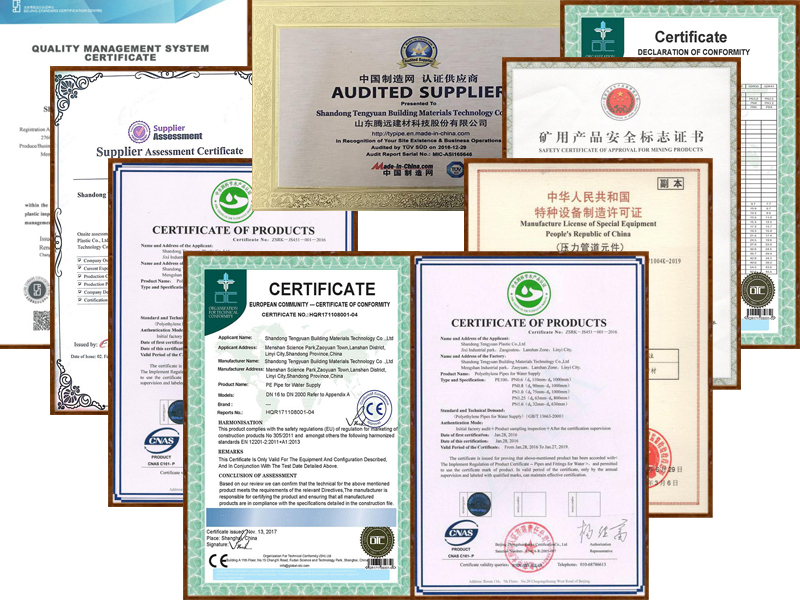 SERVICE:

1 CREDIT MANAGEMENT:
Credit is the primary core value of us, as well as the guarantee for our enterprise's sustainable development. We trust and respect each other with our customers, employees, suppliers and other stakeholders. On this basis, we are expecting a long-term and all-win cooperation model
2 QUALITY PRIORITY:
Deeply developing the value of supply chain and optimizing the supplier system, so as to ensure the superior quality and stability of the supplying end. Performing lean management model and realizing superior quality competitiveness by innovating R&D management, performing total quality management and carrying out standardized operation.
3 ALL-WIN COOPERATION:
We have been striving to achieve the maximum comprehensive efficiency and all-win cooperation whether in teamwork or in cooperation with customers.
4 SOCIAL RESPONSIBILITY:
We are committed to green manufacturing, energy conserving and emissions reducing, environmentally protecting, which reflect TENGYUAN's social responsibility.
For more quality products, Contact Now!