UHMWPE Pipe
WHY CHOOSE US:


Introduction:

Detailed Information:
Specifications
Structure

1 pair of floater contains 2 pieces of floats.

Accessories: Bolts, nuts and washers.

Material

Floater's hull: Medium density polyethylene material.

Inside: High strength polyurethane foam.

Features

Anti-impact; Anti-corrosion; Easy installation; Anti-UV; Long lifespan; Lower cost than steel floats.

Applications

Floating pipes or cables on the water; Widely used in dredging sand pipelines and laying the pipes on the water.
Properties
| | | | |
| --- | --- | --- | --- |
| Item | Performance of the shell | Item | Filler Index |
| Tensile Strength | ≥12MPa | Water Absorption | 0.16-0.20g/100cm3 |
| Elongation | ≥11% | Breaking Strength | 0.8-1.3Mpa |
| Impact Strength | ≥32KJ/m2 | Elongation | 0.4-0.6% |
| Bending Strength | ≥15.7MPa | Compression Strength | 0.1-0.24Mpa |
| Compression Strength | ≥0.31MPa | Heat Resistance | -60℃--+80℃ |
| Shell Density | 0.918-0.922g/m3 | Filler Density | 35kg/m3 |
Features:
1. Light weight, easy for installation and movement.
2. The costs and performances are much better than steel pontoons.
3. Good Flexibility, excellent impact resistance, particularly suitable in the open sea.
4. Higher corrosive resistance, anti-uv, anti-aging ,it can be used for 5-8 years,3 times longer than steel floater.
5. The outer and inner wall are very smooth, friction coefficient is tiny, all of these features are good for transmission.
6. It can be used from – 60 to 80 ° c.
Application:
The MDPE floater is widely applied in dredging and mine tailings area for delivering the fluid that contains the medium of mud, slag and so on.
Our Factory: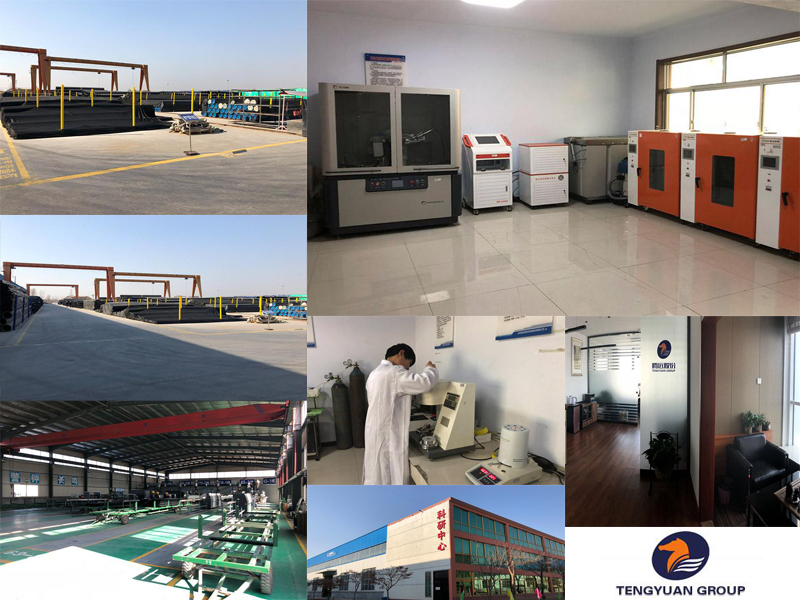 CERTIFICATE: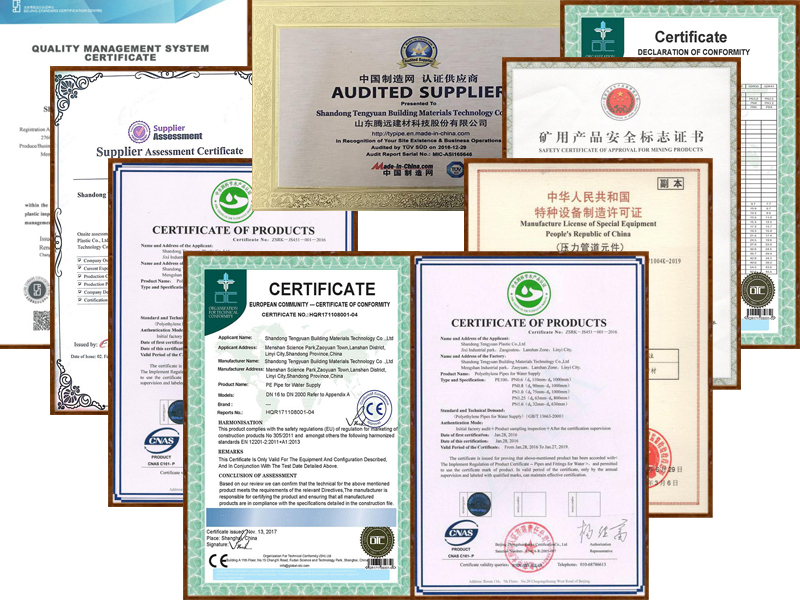 SERVICE:

1 CREDIT MANAGEMENT:
Credit is the primary core value of us, as well as the guarantee for our enterprise's sustainable development. We trust and respect each other with our customers, employees, suppliers and other stakeholders. On this basis, we are expecting a long-term and all-win cooperation model
2 QUALITY PRIORITY:
Deeply developing the value of supply chain and optimizing the supplier system, so as to ensure the superior quality and stability of the supplying end. Performing lean management model and realizing superior quality competitiveness by innovating R&D management, performing total quality management and carrying out standardized operation.
3 ALL-WIN COOPERATION:
We have been striving to achieve the maximum comprehensive efficiency and all-win cooperation whether in teamwork or in cooperation with customers.
4 SOCIAL RESPONSIBILITY:
We are committed to green manufacturing, energy conserving and emissions reducing, environmentally protecting, which reflect TENGYUAN's social responsibility.
For more quality products, Contact Now!