HDPE Dredging Pipe
WHY CHOOSE US


Introduction:
Detailed Information:
Specification
ID

OD

Working Pressure

Burst Pressure

mm

mm

Mpa

bar

Mpa

bar

150

170

1.0

10

2.0

20

200

226

1.0

10

2.0

20

250

284

1.0

10

2.0

20

300

340

1.0

10

2.0

20

350

396

1.0

10

2.0

20

450

510

1.0

10

2.0

20

550

624

1.0

10

2.0

20

550

624

1.0

10

2.0

20

600

680

1.0

10

2.0

20

650

737

1.0

10

2.0

20

700

794

1.0

10

2.0

20

800

906

1.0

10

2.0

20

1000

1134

1.0

10

2.0

20

1200

1360

1.0

10

2.0

20

1400

1586

1.0

10

2.0

20
Properties
Characteristics

Requirements

Specific Gravity, g/cm3, (20℃)

0.941-0.965

Longitudinal Reversion, %, (110℃)

<=3

Oxidation Induction Time, min, (200℃)

>=20

Extension Rate at Break,%

>=350

Melt Mass Flow Rate, g/10min (195℃,5kg)

Change of MFR by processing ± 20%

Hydrostatic Strength

1)20℃, Hoop Stress:

PE100 12.4Mpa, PE80 9.0Mpa,100h

2)80℃, Hoop Stress:

PE100 5.4Mpa, PE80 4.5Mpa, 165h

3)80℃, Hoop Stress:

PE100 5.0Mpa, PE80,4.0Mpa, 1000h

No Failure

No Failure

No Failure
Features:
HDPE dredging Pipe is most suitable for mud & sand delivery and discharge, the performance is as follows:
1. Light weight, saving time and improving efficiency. HDPE dredging pipes are only one-eighth of steel pipes. They adopt flanges and bolts for connection, installation and dismantlement, which mean they are convenient for transportation, repair and replacement.
2. Great flexibility, tensile strength and elasticity. HDPE dredging pipe doesn't break after internal and external force impact, it has great resistance of stormy waves. They could be bended to be a circle by 4-8 pieces in the water. If they are need to be connected on land, they can be connected directly as long as the concave-convex is within 30 degrees of area.
3. Excellent wear-resistance ability. HDPE dredging pipe's wear-resistance ability is 4-8 times of steel pipe, together with its anti-UV and anti-aging ability, it normally can be used for 5-8 years upon sand content.
4. HDPE dredging pipe is assembled with two metal flanges at both pipe ends. The pipes are connected by flanges and bolts, which ensure they will not deform and drip when installing and disassembling and ensure the engineering's high efficiency.
5. HDPE dredging Pipe has smooth outer and inner wall and tiny friction coefficient. Its transmission efficiency is 20% to 30% higher than steel pipe.
6. HDPE dredging Pipe's workable temperature is range from – 40 ° c to 60 ° c, it can adapt to bad weather and fluctuated temperature.
7. Whenever on land or water, HDPE dredging Pipe's total engineering cost is lower and more efficient than other pipes.
Our Factory: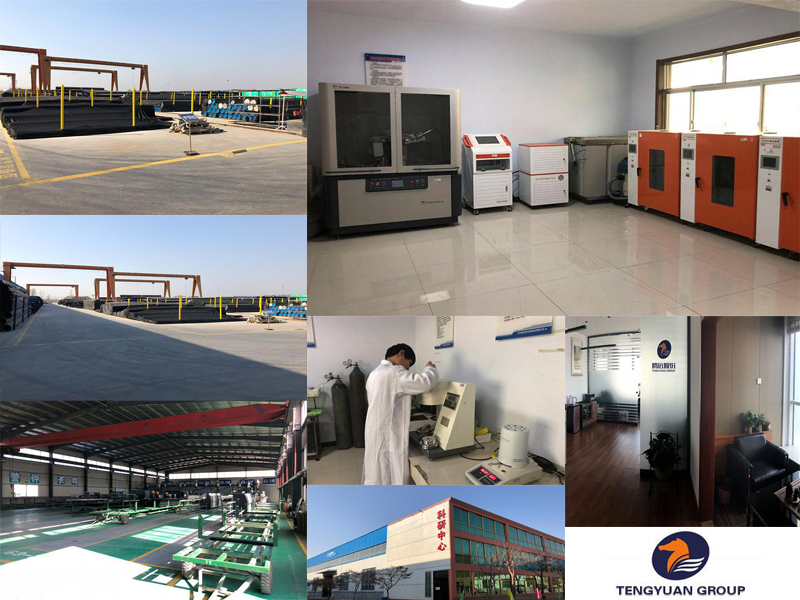 CERTIFICATE: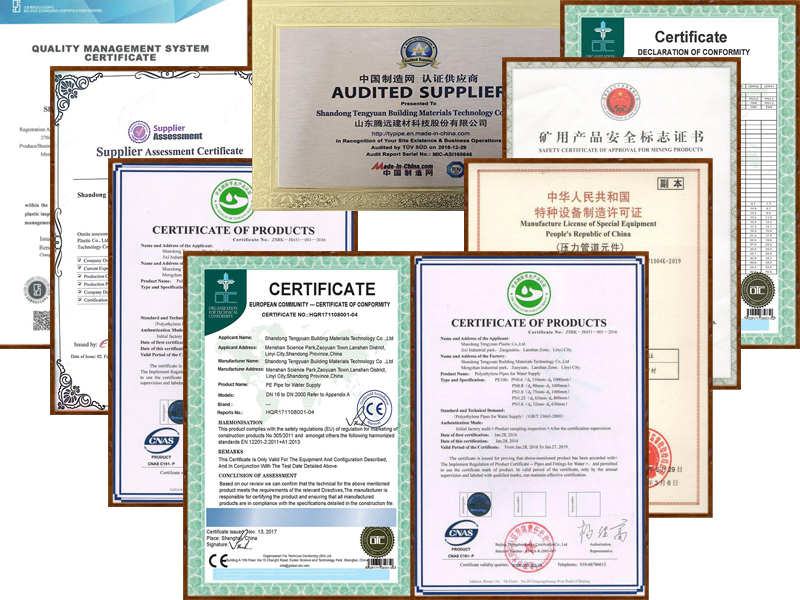 Application:
1. Delivering powder and coal ash in thermal power plant.
2. Delivering mine tailings and slurry, metallurgical mines in the mining industry.
3. Delivering pulverized coal and coal-water slurry of coal preparation plant in the coal industry.
4. Delivering mud and corrosive media with slag in the chemical industry.
5. Delivering crude oil and petroleum.
6. Delivering sand\mud\slurry for dredger in dredging projects or sand suction projects, and also for seawater treatment projects.
SERVICE:
1 CREDIT MANAGEMENT:
Credit is the primary core value of us, as well as the guarantee for our enterprise's sustainable development. We trust and respect each other with our customers, employees, suppliers and other stakeholders. On this basis, we are expecting a long-term and all-win cooperation model
2 QUALITY PRIORITY:
Deeply developing the value of supply chain and optimizing the supplier system, so as to ensure the superior quality and stability of the supplying end. Performing lean management model and realizing superior quality competitiveness by innovating R&D management, performing total quality management and carrying out standardized operation.
3 ALL-WIN COOPERATION:
We have been striving to achieve the maximum comprehensive efficiency and all-win cooperation whether in teamwork or in cooperation with customers.
4 SOCIAL RESPONSIBILITY:
We are committed to green manufacturing, energy conserving and emissions reducing, environmentally protecting, which reflect TENGYUAN's social responsibility.
For more quality products, Contact Now!